The Earliest Families
The vanguard of Governor Winthrop's Massachusetts Bay Company arrived on the ship Arbella at Salem in June 1630. However, the town did not suit Winthrop as a capital town for his Company and after a week's search of the area, he selected Charlestown which he thought would be a more satisfactory place. In 1629 it had a population of about a hundred men, women and children. Winthrop brought the Arbella down to Charlestown on a now very memorable date, June 17, 1630. Soon a number of ships from England joined him there. However, the town did not turn out to be the prosperous place that Winthrop had been assured it to be; also the drinking water came from a single spring that soon developed a very brackish taste. With a population that had grown rapidly to number 1500 people, its location was not only inadequate for that number but unhealthy as well. As many as 80 people succumbed from what is believed to be bad water and by the end of a very hot summer in 1630 nearly 200 more had died, including some of the more prominent leaders of the Company. This caused a number to return to England but most began to search for better locations to live. "Several score", including Sir Richard Saltonstall, George Phillips and one of the ministers went up the Charles River and settled Watertown. Others went to Dorchester where passengers on the "Mary and John", one of the first of Winthrop's fleet to reach this side (June 6, 1630) were already settled. About this time, across the Charles on the peninsula then called "Shawmut", the Reverend William Blaxton an Episcopal minister and learned recluse, who lived as the sole resident in his cottage on the slope of Beacon Hill, invited Winthrop to move over to Shawmut where a fine spring was located. His invitation was accepted and the greater part of the Company, with their minister, John Wilson, moved over in the Arbella in October 1630 to a place he renamed Boston, in honor of a city of the same name in Lincolnshire, England, from which many of the leaders of the Company came.
However, not all followed Winthrop to Boston. A small band located in Roxbury, others in Saugus (later changed to Lynn) while Thomas Dudley, the deputy governor and Simon Bradstreet, his son-in-law, and a few others established the town of Cambridge in 1630-31 which was called "The Newe Towne". A small number remained at Charlestown. Cambridge which later became the parent township of Newton made several grants of land in that part of their township, one in 1634 that included John Haynes and Thomas Dudley. John Haynes later joined John Winthrop's Company and his name can be found among the early governors of the colony. The original holdings of Haynes and Dudley included land in what is now Upper Falls.
While Newton's seal bears the date of 1630 as an indication of the time of its founding, it would appear that this date is a bit early as, in fact, the territory that is now Newton then belonged to Watertown until about 1634 when it was granted to Cambridge. Concord, founded in 1635, was the first inland settlement in the 13 colonies. Other towns, because they were located on the ocean or had access to the sea, were founded earlier. Before the arrival of Winthrop there were settlements in the general area including Plymouth in 1620, Gloucester in 1623 and Salem in 1628.
For the first century or two after its settlement, Newton appears to have been peopled by succeeding generations of the original stock, those who were part of the early westward migration from the coastal settlements. As most of Newton remained rural in nature, these early farmer-settlers clung together.
Only with the industrial revolution that followed the Revolutionary War did change take place, particularly in those villages having access to the water power of the Charles River. Upper Falls was the first village to awaken to this new day in a new nation. Strangely enough, it was a sort of reverse migration that flowed back into the village, attracted by its industrial potential. Aside from a few financial backers from Boston, the majority of the early residents "back tracked" to Upper Falls from communities to the west such as Dover, West Dedham, Foxboro and others. Among them were many notable descendants of the first settlers of our nation. They were to dominate the local population for the next half-century or so.
When the industries of this area began to develop in the early days of the nineteenth century they demanded more and more workers. This brought the skills of other Europeans to the village. By the 1840s different religious and ethnic groups began to emerge, as indicated by the fact the first Catholic Mass in Newton was conducted here during that period. The first available statistics that show changes in the nationalities of the people in Newton were compiled in 1875. Of the 16,105 people who inhabited the city that year, 4,205 were listed as foreign born and the countries of their origin included Ireland, 2,619; Canada, 688; England, 555; Wales, 95; other British possessions, 24; Germany, 81; Sweden and Norway, 34 and the balance from 13 other countries.
By 1890 the city had grown to nearly 20,000 people, and racial classification of its peoples as shown in the city directory of the year previous shows 2,900 persons of Irish extraction, many of them working in the mill villages, 1,275 who had come from the Maritime Provinces of Canada, and 600 who were of English origin. They, for the most part, found employment in the industries of the city. It was not until the last decade of the nineteenth century that immigration from southern and eastern Europe increased so rapidly. It is therefore significant that while 96 Germans and 51 Swedes were among the city's residents, only five Italians were recorded since most of their immigration took place after the turn of the century. Two Chinese and a single Turk were among 617 of various origins.
A racial mix was quite evident in the village of Newton Upper Falls, as Mr.. McLaughlin observed:
"After the potato famine in Ireland, many Irish immigrants came to live in this area. At first they worked on estates and as domestics, but their children soon entered factories, offices and professions."
At the end of the last century, workers from Poland, Lithuania and Russia were in demand in the factories because of their skill, strength and willingness to work at lower wages. Italian laborers worked on construction jobs, such as building of the Newton Water Works. These laborers were housed and fed in labor camps by the contractors. At the conclusion of the contract, they generally went to work on the local farms and soon owned homes, farms and businesses of their own. There was an Armenian settlement in Watertown, a few came to Upper Falls to live. Soon French Canadian families lived in Upper Falls and worked in the factories, but they later moved to Nonantum, the French section.
The melting pot of social intercourse and intermarriage has fused the townspeople into a community minded group who cooperate in many social and religious activities. For instance, in 1928 the twelve elected officers of the Newton Upper Falls Woman's Club were from seven different national origins."
The following includes the author's concept of who might be considered the early residents of the old Upper Falls village. These are drawn from an area previously described in the chapter entitled HISTORICAL, one considerably broader than that of the village today. The information is taken from Jackson's and Smith's histories as well as other sources:
---
An Alphabetical Listing of Families
BEALE, GERSHAM – Bought five acres of land of Joshua Fuller at Newton Upper Falls in 1712. Died 1723.
BIXBY, JONATHAN – Supposedly the son of Joseph and Sarah of Boxford. He married Rachel Hoborne in 1709 and had his dwelling-house and farm at Newton Upper Falls, the northwestern part, on the bank of the Charles River. They had a daughter, Rachel, "and probably others" * Jonathan died Nov. 2, 1714 but it is recorded that a daughter, Hannah, was born April 30, 1715.
* As there was but one known Bixby homestead (a portion of which is now located on Quinobequin Road) all the Bixbys recorded here are considered to be one family. Therefore, the above Jonathan must have had a son who was the father of the Bixby recorded in the next entry.
BIXBY, JONATHAN – Married Eunice, daughter of Thomas Parker. They had Jonathan Sept. 24, 1774 and Samuel Feb. 24, 1777 (who died Sept. 25, 1792). Eunice, the first wife, died Apr. 28, 1777, age 30. Jonathan married secondly Elizabeth Hammond in 1777. She died April 10, 1830, age 81. Jonathan served as Selectman 1783 6 1784. He and his son (listed next) were original proprietors of the South Burial Ground in 1802, and a tomb within the cemetery bears the inscription "Jonathan Sr., and Jonathan, Junrs- Tomb, Built AD 1806". A cast iron marker in front of the tomb with a metal tag marked "Jonathan Bixby" indicates service in the Revolutionary War. In included in a list of the "Muster Roll of Nest Newton Company in the Battle of Lexington" (Smith's History) is Private Jonathan Bixby. His company "marched from Newton on the 19th April, 1775; they marched twenty-eight miles and were out four days."
Jonathan, Sr. purchased Turtle Island and land on the Needham (Wellesley) side of the Charles River from his father-in-law, Thomas Parker. He erected a rolling mill on his land for the manufacture of scythes. Later, in 1783, he erected a new dam and sawmill on Turtle Island. In 1799, however, he sold his property to the Newton Iron Works Company, and in 1809 he .«.old his water privilege: to General Simon Elliot. He died January 23, 1819.
BIXBY, JONATHAN, JR. – Born Sept. 24, 1774. Very little is known of "Junior". It is recorded that he and Nathan Pettee jointly purchased a pew in the First Baptist Church at Newton Centre. April 29, 1805. Later he helped found the Second Baptist Church in Upper Falls (see chapter CHURCHES) in 1832. Among the charter members of this church were Lydia, Eunice, Eliza and Angelina Bixby. Angelina appears to have been his daughter-in-law (see next entry below) and the others could represent his wife and daughters. Early fire company records list as members Hiram (1825) Augustus (1831) and Jonathan (1837 – after 1842 another Jonathan appears but it is believed they are the same person.) These three men were no doubt the sons of Jonathan Jr. Jonathan Jr. died May 27, 1835.
BIXBY, JONATHAN – Married Angelina – – (Born in Thomaston, Maine) They had a son, Jonathan W., born December 10, 1846 and died August 2, 1849 of "canker rash."
BIXBY, HIRAM – Married Esther Gardner (Born 1828 in Watertown) Hiram died April 4, 1838, age 31.
CHENEY – The Cheneys were pioneer residents of the village of Upper Falls. Their homestead was built in 1702 on what is now the southwest corner of Cheney and Mechanic streets (see chapter OLD HOUSES AND BUILDINGS. Descendants of this illustrious family are too numerous to include them all here. Records indicate they married into many early families in the town including Jacksons, Wiswalls, Williams, Miricks, Hammonds, Woodwards, Kenricks, Eddy, Bartletts. For background and special reasons a few are included here. The original couple, John and Martha Cheney settled in Roxbury prior to 1635 and moved to Newbury, Massachusetts in 1636. Their family consisted of four sons and five daughters.
CHENEY, JOHN – Grandson of John and Martha, married Elizabeth ——- and moved to Upper Falls in 1702. They had four sons and one daughter. The first Wife died in 1715. He married secondly Elizabeth Currig in October 1717 and had a family of two sons and three daughters.
CHENEY, JOSEPH – Grandson of John and Martha, married Sarah Wiswall, daughter of Captain Noah Wiswall who, along with John Ward, had laid out in 1687-1688 the road from Cambridge to Upper Falls. Joseph Cheney inherited some of his land when Sarah died in 1718. Joseph had two sons and three daughters. He married his second wife, Abigail – – – who died April 12, 1771, age 84. He served the town as Selectman in 1741.
CHENEY, JAMES SR., – Grandson of John and Martha, married Lydia Mirick in August 1732. They had three sons (including Aaron shown next) and three daughters. Daughter Elizabeth married Isaac Williams in 1765, James, Sr. died February 3, 1746, age 61. Wife died November 23, 1766, age 64. James built his home in 1732 at the end of Mechanic Street which then extended to the river. The house was between the road and South Meadow Brook. Son Aaron inherited the homestead which he in turn left to his nephew, Asa Williams.
CHENEY, AARON – Son of James Sr., married Thankful, daughter of Stephen White in November 1767. They had one son, Amos, born September 18, 1771 and died in 1792, age 21. Aaron died October 3, 1814, age 80. His wife died in 1817. It is recorded that Aaron, in his will, gave Southwest School District "one hundred dollars, to be kept as a fund forever; the interest to be expended annually, to wards teaching young people in the summer." However, for some reason, we found that there is no such will filed in the Middlesex Probate Court, Cambridge. He is considered to have died intestate.
CHENEY, GENERAL EBENEZER – Grandson of Joseph, married Elizabeth – – – , They had a son and daughter. Married second wife, Abigail Wood. Had three sons, seven daughters. General Cheney was a very influential citizen of the community and of the state. He was a representative to the General Court for five years, from 1812 to 1817. He died in 1853 at the age of 94. He fought in the Revolutionary War.
CLARK, JOHN – Born in Watertown October 13, 1641 and died in 1695. His father, Hugh Clark, conveyed to him by deed of gift in 1681, 67 acres of land on the east side of Centre Street at the Common (Newton Centre) where he built a house. He built a sawmill at the Upper Falls on the Charles River and owned land adjoining. The eight acres of land on the river with the sawmill was appraised at 180 pounds.
CLARK, JOHN JR. – Conveyed to his brother William 35 acres of land bounded south".". by Stephen Winchester, north by Ebenezer Woodward, east by the highway to Lower Falls and west of land of William Clark. (This indicates the wide extent of the village in the early days). John, Jr. had four sons and two daughters. He served the town as Selectman in 1722. He died in 1730 at the age of 50.
CLARK, WILLIAM – Son of John, Sr. William conveyed to Noah Parker in 1725 seven acres of land bounded west by the river, east and south by land of his own and north by Gersham Beale; also one-fourth part of mills, stream and dam at Upper Falls. His dwelling place was burned March 18, 1729. William had three sons and four daughters. He died in 1737, age 51.
CLARK, CAPTAIN JOHN – Son of John, Jr. Married Hannah Cuttin of Watertown in 1734 and built his home on the north side of the village, on Sherburne Road (Woodward Street). They had four sons and eight daughters. He was Selectman in 1746, 1747 and 1758; Representative to the General Court in 1758, 1759 and 1760. The family later moved to Waltham. John died there in 1773, age 73.
CLARK, WILLIAM, JR. – Married Mary Marean in 1740 and built his home near that of his cousin, Captain John. They had six sons and two daughters. His wife died in 1787, age 73.

The Clark heirs are too numerous to mention them all here. Many moved to other locations in the state, but their in influence in Upper Falls in the early days was considerable.
COLLINS, MATTHIAS – Son of Matthias Collins of Marblehead, married daughter of Ebenezer Davis of Brookline. They had one son also called Matthias. Matthias Sr. came to Newton in 1778, buying 100 acres of land from Joseph Craft. This was adjoining John Woodward's farm. He died in 1785. His wife died in 1819 at the age of 85.
COLLINS, MATTHIAS, JR – (believed to have been known as Matthias II) Married Hannah, daughter of Edward Jackson in November, 1798. They had five sons and three daughters. Two of the sons, Frederick A. and Edward J., became very successful local business men and built impressive homes on the old Sherburne Road (Beacon Street). The F.A. Collins home, built between 1825 and 1831, is still standing at 1734 Beacon Street. Members of the Collins family were noted for their service to the community and for their involvement in many enterprises in Upper Falls.
COOK(E), ASA – son of Jonathan, Jr., married Roxanna – – – . Had one son, Aaron, born November 26, 1824 and died in 1850 at the age of 26. Asa was born June 3, 1797. He was believed to be a descendant of Gregory Cooke, an early settler of Newton (1688). Asa's home was at the junction of the present Elliot, Woodward and Boylston streets. It was formerly known as the Bacon Tavern (?). The building has since been demolished and replaced by a smaller home.
DAVENPORT, JOSEPH – First of this pioneer family to live in Newton (Lower Falls). His father, John, (died 1725) and his grandfather, Thomas, (died 1685) were early settlers in that part of Dorchester, now Milton. Joseph was a clothier and settled in Newton about 1731 "on the right of the road leading to Upper Falls." He married Sarah Ware, daughter of Ebenezer Ware of Needham, and they had four sons and three daughters. He died March 12, 1752.
DAVENPORT, BENJAMIN, SR. – Son of Joseph. He was born in Newton June 16, 1743. He married Sarah Wilson and they lived "opposite the old poorhouse" (site of the present Angier School). He later lived in Needham where he died December 28, 1833.
DAVENPORT, JOSEPH – Son of Benjamin, Sr., was born August 18, 1773. He lived in Newton Upper Falls but later moved to Carnbridge where he died May 28, 1849. It was his home, which once stood at 969-971 Chestnut Street, that was destroyed by fire July 25, 1843.
DAVENPORT, BENJAMIN, JR. – Son of Benjamin, Sr. Born March 27, 1786. Died June 27, 1862. He and his wife, Mehitable, are buried in South Burial Ground on Winchester Street and this record is taken from their headstone. Jackson's History says a Benjamin Davenport married Mehitable Beard in 1811. The headstone records Mehitable as born in 1789 and died March 26, 1826.
DAVENPORT, ENOCH – Gravestone of Enoch and his wife, Priscilla (spelled Prescilla on headstone), was also found in "Upper Falls" cemetery on Winchester Street. Jackson's History says he was the son of Joseph. He and his wife Priscilla (Parker) had seven sons and one daughter. He was born June 25, 1741-1744, died June 21, 1803. She was born November 20, 1749 and died December 14, 1835 (Jackson says 1837).
DOLBEAR, BENJAMIN – "Lived near the Upper Falls." He was supposedly the son of Benjamin and Hannah Dolbear of Boston. Benjamin, Jr. married Hepsibah – – – and they had sons, James, born November 5, 1760 and Timothy, born March 24, 1762.
ELLIOT, SIMON – from Boston. He was a tobacconist. In 1778 he bought from Thomas Parker all of his mills and about 35 acres of land including the dwelling house, barn, malthouse, and other buildings at Newton Upper Falls for 1,700 pounds. In 1782 he constructed a snuff mill and during the next twelve years, three more; also a grist mill and a nail factory. It is also recorded that he bought considerable land on both sides of the river and that he left an estate in 1794 valued at 15,000 pounds.
ELLIOT, GENERAL SIMON – Simon's son received his military title for service in the state militia. General Elliot carried on his father's business until 1814 when it was acquired by his brother-in-law, Thomas Handasyd Perkins. At that time the plant included four snuff mills, a wire mill, a screw factory, a blacksmith shop, an annealing house and a grist mill with water rights; also a farm and buildings built by General Elliot.
ELLIS, RUFUS – born in West Dedham March 13, 1777. He came to Newton Upper Falls in 1799 to be the superintendent of the Newton Iron Works Company, which he later owned along with other industries in the Lower Boylston Street area. He lived at the present 1235 Boylston Street and he died on July 2, 1859 at the age of 82.
EVERETT – The Everett family was another very prominent family in the village who moved here from Foxboro although they had earlier resided in Dedham. The Everetts originally emigrated from England about 1634-35, briefly residing in Watertown before moving to Dedham. They moved to Upper Falls to take advantage of the opportunities for employment in the Elliot Manufacturing Company built by the Perkins brothers in 1823, where Otis Pettee of Foxboro had become its superintendent. Otis Pettee's oldest sister, Abigail Caswell Pettee, had married Joseph Everett of Foxboro and their son, Nathaniel Ware Everett, born November 18, 1810 at Foxboro, later came to Upper Falls where he met Deborah Ann Winslow. They were married here on January 25, 1849. This marriage brought together three of the more prominent families of the village. The Everetts built or moved into the house that is now 16-20 Winter Street. Nathaniel was a 'pattern maker' in the foundry of the Elliot Manufacturing Company.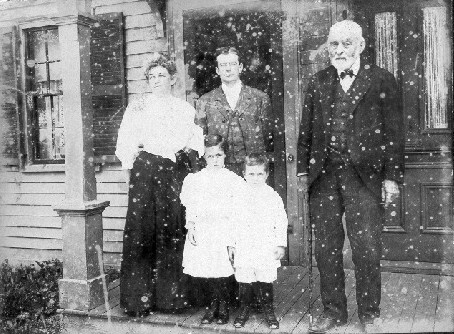 EVERETT, JOSEPH CASWELL – older brother of Nathaniel, came to Upper Falls about 1823 and he became the eventual builder and occupant of the Queen Ann style house at 336 Elliot Street. He was employed as a carpenter at the Elliot Mfg. Co. Joseph was born August 23, 1796 at Foxboro and he died at Upper Falls, Oct. 30, 1861. On April 10, 1825 he married Mary Warren, at Dorchester, Mass.
EVERETT, WARREN PETTEE – Joseph and Mary Everett had four children, three girls, Mary Caswell, Caroline Elizabeth and Lucy Annah. Also a son, Warren Pettee Everett. Joseph was active in town affairs, serving Newton as a selectman and as a member of the school committee.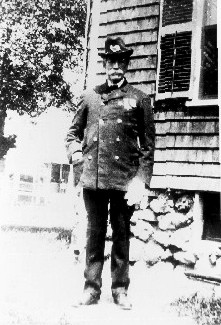 EVERETT, CYRUS – Brother of Joseph and Nathaniel, was born Nov. 25, 1800 at Foxboro. He also came to Upper Falls about 1823 and while it is known he owned property on High Street in 1837 the location of his residence is unknown. He married Hannah Dean of Dedham June 11, 1826 and they had seven children, the first three dying very young. They are buried in the Upper Falls-Oak Hill cemetery (South Burial Ground); as are their parents. The four remaining children, all girls, Mary, Hannah, Georgianna and Harriet presumably remained in Upper Falls.
Joseph and his brothers were of the seventh generation in this country. A cousin, Edward Everett, became an outstanding national figure. He often visited here in Upper Falls and would have a very effective influence on some of the members of the Everett family. See bibliography of the family.
ELLIS, DAVID – older brother of Rufus, also born at West Dedham on June 21, 1765. He was part owner with his brother in some of his enterprises. He died November 24, 1846, age 81.
Note; Some Ellis heirs remained in the village as merchants or in other occupations, while others left to become very well known as Unitarian ministers.
FULLER, COLONEL NATHAN – son of Thomas Fuller and a member of the illustrious Fuller family of Newton. He married Beulah, daughter of Moses Craft, July 4, 1763. They had no children. He served in the Revolutionary War, entering the army as Captain at Cambridge (Twenty-two Fuller descendants went into the Revolutionary army from Newton). Colonel Nathan was a Representative to the General Court in 1794. In 1781 he gave one and a half acres of land to the West Parish (West Newton) for a "burying place." Smith's History says at one time he ran a tavern in his home on the old Sherburne Road (Woodward Street). He died September 21, 1822 at age 81. His wife died November 16, 1818. His nephew, Benjamin Fuller, inherited the estate.
GREENE, JONATHAN – A carpenter, he came to Newton from Malden in 1697 and "lived near the Falls." He married Mary – – – and they had one son and two daughters. Jonathan died in 1736 and his wife in 1732.
HAMMOND, JOHN – son of Thomas and Mehitable Hammond, married Margaret Wilson December 11, 1718. He bought 370 acres of the Governor Haynes Farm from Reverend Jared Eliot in 1746 and built his house at approximately the corner of the present Centre and Boylston streets. He died in 1763 at age 67. His wife died in 1788. His son, Enoch, inherited the homestead. Later owners included John Marean (who married Enoch's sister, Abigail). Marean operated the home as a tavern as did later owner, Edward Mitchell.
HAMMOND, DANIEL – son of John, married Lucy Jones in 1751. They had four sons and four daughters. He built his home at the corner of the present Curtis and Winchester streets. He died in 1777, age 50.
HYDE, ELEAZER – son of Jonathan, Sr., a very influential citizen of Newton who came here from Cambridge Village in 1647. Jonathan had 21 children of which Eleazer was the 11th. Eleazer married Hannah, daughter of Job Hyde. They had one son and two daughters. His estate went to his son, Eleazer. The homestead, built between 1720 and 1730, is still standing although considerably altered. It is located at 401 Woodward Street (Old Sherburne Road).
KENRICK, JOHN – Born in England, 1605. In 1658 he purchased 250 acres of land on what was later the south side of old Upper Falls village. He had two sons and a daughter. His son, John, inherited "his dwelling house, barn and out houses, and all his lands and estate, not disposed of in his will." The house was near the bridge crossing the Charles River called Kenrick's Bridge. John, Sr. died August 29, 1686.
The descendants of John Kenrick are too numerous to be included here. His great-grandson Benjamin Kenrick, had a daughter, Anna, who, in 1789, married General Benjamin Pierce, a Revolutionary.War officer. Their son, Franklin, became the 14th President of the United States.
KENRICK, CAPTAIN CALEB – Grandson of John Kenrick, Sr., married Abigail Bowen of Roxbury in 1721. He took the west part of the homestead and built his house on the north side of the present Nahaton Street (near the river). They had four sons and four daughters. He was Selectman for five years. He died March 1771, age 77 and his wife died September 1775.
LONGLEY, NATHANIEL – Came to Newton about 1700. His house was near Institution Hill, Newton Centre. In 1725 he bought mill property and privileges at Upper Falls from Nathaniel Parker and William Clark. He died in 1732.
MAREAN, WILLIAM – Moved from Roxbury to Newton and lived near Kenrick's Bridge. He and his wife, Elizabeth (C!ark), had three sons. He died in l761, age 83. His wife died in 1747. They had many descendants including grandson, Lieutenant John Marean who was a lieutenant of a company of Minute Men in the battle at Concord April 19, 1775. He afterward kept a tavern (Marean's), later called Mitchell's, near the old cemetery on Winchester Street. He died February 1, 1786, age 47. His widow, Abigail, married Captain Edward Fuller in 1789. She died May, 1826, age 85.
MITCHELL, EDWARD – A carpenter from Brookline. He kept a tavern, formerly Marean's, at the south part of town near the old cemetery on Winchester Street. He and his wife, Elizabeth – – – had four daughters. He died September 1807, age 48. His wife died September 2, 1827, age 68.
Members of the Parker family listed below are but a few of this illustrious pioneer family. These representatives are those who lived in or had involvement with the village of Upper Falls. See Franklin P. Parker, Some Descendants Of Samuel Parker of Dedham, Massachusetts.
PARKER, NATHANIEL – Married Margaret, daughter of Captain Noah Wiswall, and settled on part of the Wiswall land. In 1694 bought the house and land of Lieutenant Ebenezer Wiswall. They had two sons, Noah and Caleb. His wife, Margaret, died July 30, 1736. He married secondly, widow Mary (Marett) Hovey of Cambridge in December, 1736. In 1708 Nathaniel purchased of John Clark one-quarter of sawmill, stream, eel-weir and half an acre of land at Upper Falls for 12 pounds, and in 1717 another quarter of the same with an acre and a half of land for 45 pounds. He was born March 26, 1670 and died February 28, 1747, age 77. His second wife died September 10, 1758.
PARKER, NOAH – (son of Nathaniel): Married Sarah Cummings of Tyngsboro April 21, 1715 and settled in Newton Upper Falls. He received from his father by deed of gift, in 1725, half the sawmill and grist mill at Upper Falls along with the land. The same year he purchased from William Clark one-quarter of the same mills and seven acres of adjoining land for 95 pounds; and at the same time purchased from Nathaniel Longley the remaining quarter part of the same mills. Thus he became, in 1725, the sole owner of the first and oldest mills on the Charles River, including the dam, stream rights and eel-weirs. He had five sons and two daughters. He died March 18, 1768, age 74. His wife died September 10, 1758. Their grandson, John Parker, became president of the former United States Branch Bank and was one of the foremost citizens of Boston.
PARKER, THOMAS – Son of Noah. Married Eunice Hammond in 1741. They had eight sons and five daughters. Daughter Eunice married Jonathan Bixby, Priscilla married Enoch Davenport in 1771 and Sarah married Ithamar Ward. Thomas Parker was a Selectman and Representative for six years, from 1777. As a member of the Massachusetts Provincial Congress he helped write the first state constitution in 1780. He was a strong supporter of the Baptist faith and often preached at their services. He died March 27, 1812, age 91. His wife also died in 1812.
PETTEE, Samuel – Owned house and 100 acres of land (1707) in the vicinity of Winchester Street. (Name also spelled Petee.). Background on OTIS PETTEE and family may be found under chapter BIOGRAPHIES.
STAPLES, DEACON JOHN – Married Mary Craft July 24, 1690 and settled in what became the north section of old Upper Falls village. He built a modest home there in 1688 (a portion of which still stands, incorporated later into a larger structure) on the old Sherburne Road, now 1615 Beacon Street. John was a weaver by trade but became Newton's first school master. He was a Selectman for eight years, from 1701 to 1709 and Town Clerk for twenty-one years, from 1714 to 1734. He died November 4, 1740, age 82. His estate was left to Moses Craft(s), a relative of his wife who had lived with the Staples family. Mr. Crafts, an outstanding citizen, left many distinguished heirs.
TOLMAN, THOMAS -A shoemaker. Married Betsy Bixby in 1795 and lived in Upper Falls. (No record of Betsy Bixby being a member of the Upper Falls "Bixbys'). His homestead was located on Prospect Hill on land later acquired by Otis Pettee. His name appears on the "Alarms" list of older men who fought in the "Battle of Lexington, April 19, 1775." Also was one of the founders and member of the First Baptist Church in 1780.
WILLIAMS, ASA – Inherited and occupied the old James Cheney, Sr. homestead located in the vicinity of the present Williams Street. Asa was the nephew of Aaron Cheney, who had previously inherited the home from his father, James, Sr. Asa was born June 7, 1773 and his headstone in the Winchester Street cemetery indicates that he died January 7, 1850. Jackson's History shows an Asa Williams who married Amelia Warren in 1812. An 1831 map shows an "A, Williams" house at the above mentioned location. An 1855 map shows a house somewhat in the same area, the property owned by a Mrs. E. Williams; 1874 map, Mrs. Elizabeth Williams.
WINCHESTER, STEPHEN – Purchased land and built his home in Newton about 1720. It was located in the southeast part of old Upper Falls village in the vicinity of the present street that bears his name. He married Hannah – – – and they had three sons and one daughter. In 1750 he and his wife conveyed to their son, Stephen, 57 acres of land with the mansion house and barn, south to land of William Marean, east by John Hammond, west by widow Lydia Cheney and north by his own land. The elder Stephen died September 6, 1751, age 65. His wife, Hannah, died in 1758. Their son, Stephen, Jr., appears to have received the bulk of the estate.
One of his sons, Amasa, among other things, received from his father "all his lands in Newton and Needham." Amasa, a provision merchant in Boston, married Sally, daughter of Colonel Josiah Fuller in May, 1800. They had three sons and one daughter. While living in Newton Amasa gave land to the town on Elliot Street for a school,'in the–Southwest District and also for the extension of the South Burial Ground on Winchester Street. He later moved to Boston. He died December 18, 1846 at the age of 72.
WOODWARD, JOHN – He was a weaver, the son of George and Elizabeth (Hammond) Woodward of Watertown. Grandson of Richard Woodward who came here from England in 1634. His father-in-law, Richard Robbins of Cambridge, conveyed to him and his wife, Rebecca, 30 acres of land in Cambridge Village near Upper Falls, bounded south by the Charles River, north by the way leading to Lower Falls and east by the land of Esquire Pelham. In 1681 he built a dwelling-house on this tract which is still standing and was occupied by his descendants for many years. He was born March 28, 1649 and died November 3, 1732 at the age of 83. His wife died in 1696.
No record of their numerous offspring and descendants is recorded here because of space requirements, except for Daniel, son of John who married Elizabeth Greely, January 27, 1704 and who built their home about that time northwest of the family homestead on the old Sherburne Road (now Beacon Street). They had two sons and three daughters. He was a Selectman for three years. He died in 1749, age 68. She died in 1750.
The Woodwards were a strongly religious family yet were extremely patriotic citizens. Deacon John (born 1724 – died 1801) was the moderator of the town meeting in 1776 that passed the unanimous vote requesting Congress to declare the Colonies independent. He was in the battle of Concord and loaned the town 100 pounds to pay the soldiers in 1777. Samuel Woodward was also in the battle at Concord as well as Dorchester Heights. He, too, loaned the town money (120 pounds) in 1777 to pay the soldiers.
The large Woodward farm was included in the village of Upper Falls in the early days. Some of it was in the present village area. This was the property known by many as Pierce's Woods (now Eliot Hill). It was sold by E. Woodward to William Pierce in the 1880s as indicated by this news item appearing July 2, 1881:
"At the Upper Falls, the estate of the late Deacon Ebenezer Woodward has been purchased by a Boston gentleman of the name of Pierce, who intends to erect upon it a residence for himself, and also from time to time to sell lots to other parties for similar purposes."
Because of the many references to members of the medical and dental profession that appeared in our research of the village's early history, we are including some information regarding them here. It is interesting to note that of the ten doctors practicing in Boston in 1721 only one was an M.D., and only about 400 of the 3,500 colonial physicians in 1776 had medical degrees.
---
Physicians
The first physician of record in Newton is Dr. JOHN STAPLES CRAFTS – He was the son of Moses Crafts who settled in this area in 1729. Mr. Staples was a benefactor to Dr. Crafts and it was in honor of Newton's first schoolmaster that Moses Crafts named his son. Other physicians who appeared later are:
DR. EBENEZER STARR – Born in Weston, August 24, 1768, died August 24, 1830. Settled in Lower Falls as a doctor in 1790. Prior to 1824 he was the principal physician at Newton Upper Falls.
DR. ALFRED HOSMER – Born in Walpole, New Hampshire, November 7, 1802. He graduated from Harvard Medical School in 1828 and practiced in Newton Upper Falls until his death on November 27, 1837. He seldom rode in a carriage, making all his calls on horseback.
DR. SAMUEL S. WHITNEY – Took over the practice of Dr. Hosmer in Upper Falls and remained here for six years before moving to Dedham in 1844. He was considered an outstanding surgeon. He taught school before he was fifteen years old, being very fluent in the speaking of Hebrew. It was he who built the imposing home, in about 1838, which is now known as the St. Elizabeth Center at 260 Elliot Street.
DR. WILLIAM REED – Settled in Newton Upper Falls in 1836, practicing here a year before moving to Boston.
DR. – – MOORE – Practiced in Newton Upper Falls in the years 1841-43. (From Clarke's History of Needham).
DR. STEPHEN HODGEMAN SPAULDING – Born in Chelmsford, Massachusetts August 4, 1787, died in South Natick, July, 1866. In 1841 he moved to Upper Falls and worked in association with his son-in-law, Dr. Samuel S. Whitney. In 1843 his house and stable on Chestnut Street (near Summer) was destroyed by fire and he moved to Reading, Massachusetts.
DR. ABRAHAM D. DEARBORN(E) – Bought Dr. Whitney's practice and his home and settled in Newton Upper Falls in 1844. He was very active in community affairs and served on the school committee of the town during its vital formative years. He moved from the village in 1854 or 1855.
DR. WILLIAM F. TEULON – Dr. Teulon, of Huguenot ancestry, was born in London in 1803, moved to Newfoundland where he lived nine years and where he conducted his practice until he moved to Halifax, Nova Scotia in 1838. He later moved to Boston where in addition to continuing his practice he delivered scientific lectures. He moved to Newton Upper Falls in 1847 where, besides practicing his profession, he preached the gospel according to the Universalist faith (see CHURCHES). Subsequently, he moved to Newtonville and finally to Newton where he resided 25 years until his death on Christmas Day, 1884. He left a wife and three children.
DR, JOSEPH HUCKINS WARREN – Resided on Elliot Street (#344). From Hurd's History of Middlesex County comes the following information:
"Dr. Joseph Huckins Warren was born in Effingham, New Hampshire on December 2, 1831, the son of Joseph and Caroline E. (Huckins) Warren. He was a grandson of General James Warren of Revolutionary War fame and great-grandson of Captain John Warren, an officer in the French and Indian War. Dr. Warren's maternal ancestors were in line of descent from the Duchess of Marlboro. The doctor graduated from Bowdoin College Medical School in Brunswick, Maine in 1853. He married Caroline Elizabeth Everett of Newton Upper Falls, September 24, 1854. Miss Everett was the daughter of Joseph C. and Mary Everett. The couple had two children, a daughter, Mary E., who died young and a son, Charles Everett Warren, who also became a physician. After graduating from Bowdoin College, Dr. Warren began his practice in Upper Falls, practicing here for three years. During this time he was elected as a member of Newton's school board. However, a breakdown in health curtailed his activities and he moved to Dorchester. During the Civil War he was commissioned as a surgeon by President Lincoln. He served with distinction in several areas, part of the time in Washington. During his residence there he had special opportunities to see President Lincoln as he was assigned to be his personal physician. It was he who arranged to have the eminent author, Nathaniel Hawthorne, meet Mr. Lincoln, a visit that was to have a profound effect upon the president."

Hurd's History of Middlesex County gives this account of the interview:

'Mr. Hawthorne was a Friend in his aversion to force …his sensitive and peace-loving spirit was overcome by the horrors of war, and he fell into a state of great distress. Dr. Warren, in the hope that an interview with Mr. Lincoln would tend to restore Mr. Hawthorne's confidence in the future of his country took him to the White House on one of his professional evening calls. It seemed at first an unfortunate moment. Mr. Lincoln was greatly agitated by the discovery of treachery in an unexpected quarter, and told his visitors that he was overcome by difficulties, not knowing who were friends and who were traitors, his burden in public life, failing strength and domestic sorrows being beyond his strength. To this Mr. Hawthorne replied by a few words of sympathy and encouragement, and, finding these of little avail, knelt and offered a prayer…

As they rose, Mr. Lincoln said to him, with strong emotion, 'Mr. Hawthorne, God sent you here in my darkest hour. Now I am strong. He placed me here and I know that He will sustain me to the end.' From that time all undue anxiety seemed to disappear, and Mr. Lincoln, by his decision, firmness and undoubting belief in his position as the servant of the Lord, inspired strength and courage in all who approached him."
DR. JAMES H. GRANT – Graduated from Bowdoin in 1856 and came to Newton Upper Falls as a successor to Dr. Dearborn. He seemed to be a very popular physician, taking part in many community affairs and served the village for many years. He was postmaster twice (1857-1861, 1866-1869). A "personal" note in the newspaper of December 9, 1883 says that "Dr. Grant, formerly and for a long time a regular practitioner in this village and vicinity, but now residing in Lancaster, N.H., is making a short visit… among his old friends and patrons." Clarke, in his history of Needham says Dr. Grant came to that town to "pass his declining years." He died December 24, 1900.
DR. AUGUSTUS WENTWORTH – Practiced in Upper Falls sometime in the 1840s, as indicated by a record of fire in his home on Chestnut Street on January 11, 1849.
DR. J. F. HIGGINS – Settled in Newton Upper Falls in 1854 or 1855, practicing here for five or six years prior to his death.
DR. WILLIAM HARTNELL HILDRETH – Born April 19, 1843. Graduated from Dartmouth College. Came to Newton Upper Falls from Fitchburg in 1874. Was a surgeon in the military. His office was located at 65 High Street.
DR. EBEN THOMPSON – Here was a physician who seemed to have been very popular in the village of Upper Falls as well as in the entire city. A series of newspaper items will serve to cover his career here. The first, of March 13, 1880:

"Dr. Eben Thompson has returned to this place having taken rooms in the old 'Tavern' building, on Boylston Street, where he can be found when not visiting his patients. We wish success to him and hope his practice will assume such magnitude as to render him a permanent resident among us."

And this item in December 1883 as he sought a second term as a member of the Common Council of the city:

"Dr. Eben Thompson was born at North Danville, Vt., August 7, 1848. He graduated from Dartmouth College in 1871, and was subsequently principal of Philips Academy at Danville. He also taught school for several terms at Antrim, N.H. and in the home of Richard B. Daly, whose daughter later married Dr. McEwen.

Hurd's History of Middlesex County provides this thumb-nail sketch of Dr. McOwen:

"William Henry McOwen, M.D., son of Timothy McOwen. Born in Lowell, March 5, 1860. Graduated from Harvard Medical School and settled in Lowell, July 1883. Moved to Newton Upper Falls in July, 1885. On June 30, 1888 he was married to Miss Ellen Theresa Daly of Newton."

His father-in-law, Richard Daly, was a machinist who became a superintendent of the Pettee Machine Works. Later he resigned this position and became superintendent of the Whitin Machine Co. in Whitinsville. Sometime after his marriage Dr. McOwen purchased the beautiful Newell home on Elliot Street, now known as the St. Elizabeth Center.
DR. CHARLES A. THOMPSON, SR. – Dr. Thompson was born in Upper Sackville, New Brunswick, Canada on April 10, 1872. After graduating from Mt. Allison College, he came to this country to attend the Baltimore School of Physicians and Surgeons (afterward the University of Maryland) and later completed his studies at the Harvard Medical School and Boston City Hospital. He married Francena Louise Noyes in 1909. They had six children, three boys and three girls: Charles, Jr., who became an M.D.; Louis Bradford, a surgeon and his twin brother, H. Allison, a dentist; Martha Alberta (Mrs. Stephen H. Hartley), a medical secretary; Catherine Louise (Mrs. Edward L. Fay), a medical social worker; and Mrs. Alice Janet Hatch, a dental assistant.

Dr. Thompson commenced practice in Newton Upper Falls in 1897 and for a brief time had an office and apartment in Prospect Block before taking over the house and practice on Oak Street of Dr. Eben Thompson (no relation) early in 1898. He continued an office here and in Newton Highlands until 1930 when he discontinued his Newton Upper Falls office. He maintained an office at Newton Highlands until he died February 3, 1940 at the age of 67. He was the attending physician at the Stone Institute for 40 years. (His son, Charles Jr., continued in that capacity there until June 15, 1990) Charles Sr. was also the physician of the Gamewell Company for many years. His hobby was the training and racing of horses (sulky races), and he was a long time member of the old Metropolitan Driving Club which was once located in Brighton.
During the last 50 years there have been an additional number of able physicians who have served Upper Falls and vicinity. Among those no longer here would be Doctors Warren F. Hoey (who was succeeded by Carroll Gillespie), Winchester Everett, David York, Charles Badia and Eugene Gandolfo. Those more recently practicing as doctors in the community are Leo U. Zambon, Joseph R. Cotter and Carl Levison.
The above rounds out the list of distinguished physicians who have served this area over the past two centuries. We can only extend our list of dentists to those who have had offices in Newton Upper Falls back to 1845. In the chapter of this book dealing with our churches you will note that A. S. Dudley, "a dentist by profession," also supplied the pulpit of the Universalist Church that existed here for a short time. No others are recorded until the turn of the century when Dr. J. Douglas Thompson (brother of Dr. Charles Thompson) practiced here for a brief time from an office in Prospect Block. Later, three other dentists commenced their practices here, Doctors John King, Charles Crowley and the long-known and highly regarded Walter Billings. Both Dr. King and Dr. Billings had offices in the Prospect Block; Dr. Billings later moving to an office in his home on Indiana Terrace. Dr. Crowley had his office in his residence on High Street.
---
Founders and Members of Religious Organizations
For historical as well as genealogical purposes, we are including in this section a list of persons who were founders and early members of various religious organizations in Upper Falls in the early nineteenth century. Included also are a few from the Needham side of the river, but the majority were residents of the old village. Later, in the recording of the history of our local fire department, there will be found additional names of early Upper Falls residents.
Some duplications will be found in the following lists.
First, those who comprised the Methodist "class" first organized in 1826:
Marshall S. Rice
Nathan Rice
Mary Rice
Gardner Rice
Jeremiah Trull
Sarah Livermore
Eliza Eager
Dorcas Smith
Mary A. Morse
Mary Childs
Ann Winslow
Mary Fogg
Mary Boynton
Sarah Willis
Rebecca Garfield
Susan Tavener
Sarah Brackett
Members who organized the Upper Falls Religious Society in 1828:
Allen, Kinsley
Allen, Bethuel
Barney, Joseph
Bixby, Hiram
Bacon, Silas, Jr.
Bushee, David
Collins, Matthias
Crafts, Moses
Clark, Nathaniel 2nd
Colburn, Oren
Cabot, Frederick
Carpenter, N.
Drake, Bradford
Dickerman, Joseph
Davenport, Benj. Jr.
Davenport, Alvin
Davenport, Joseph
Dixon, Shepard
Ellis, Newell
Ellis, Rufus
Freeman, Whipple
Haskell, Caleb
Morse, Amos H.
McFarland, Walter
Pettee, Otis
Ray, Pliny
Samuel
Storey, Elijah
Sturtevant, M. P.
Sherman, I.
Winslow, Eleazer
Winslow, Jesse
Winsor, George W.
Wiswall, William 2nd
Wiswall, Elisha
Wheeler, Jonathan
The above and the following 109 members comprised the total males in the congregation for the period 1828-1833. Names of female members are not available.
Alden, Moses
Brown, Michael
Bowker, Elliot A.
Boynton, Richard, Jr.
Boatman, William
Blackburn, Richard
Bartlett, George
Britt, Samuel G.
Barney, Jacob
Blodgett, Amos
Battis, Nathaniel
Bowen, –
Bemis, Sullivan
Bullins, Isaac
Bullins, Ira
Beard, Ira
Bullins, Ira
Burrill, William
Beard, Cleaveland
Cheney, Stephen
Cheney, Samuel
Cheney, Jefferson W.
Clark, William E.
Cheevers, Warren
Colburn, Jotham
Colburn, Seth
Chick, Nathan
Dorr, Jonathan
Dorr, Edmund
Dewing, Seth.
Everett, Joseph C.
Everett, Cyrus
Eager, Moses E.
French, Nelson
Gardner, Joshua
Greenwood, Lyman
Greenwood, Abijah
Grover, Lyndal
Graves, Moses J
Goldsmith, Jonathan
Gray, William S.
Haskell, Charles
Hersey, Elijah, Jr.
Henderson, Fred. A.
Hartford, Barachias
Hawes, Eliab M.
Hawes, Amos B. S
Hanson, Peter
Hall, Ham
Jordan, Charles
Johnson, Charles
Kent,
Keith, George
Kent, Henry
Keyes, Stephen
Lawrence, George
Langley, Thomas J.
Livermore, Joseph T.
Lincoln, John
Mann, Charles
Morse, Jason
Morse, George M.
McIntosh, Samuel
McIntosh, Royal
McIntosh, Michael
Mason, Charles
Mason, Ichabod
Manson, David
Mills, Fisher
Mills, Matthias
Masury, Joseph
Nicholson, John, Jr
Nurse, George
Newell, Artemas, Jr.
Nobleman, Jonathan
Nute, Nicholas

Putnam, Stephen
Plimpton, Oliver
Pettee, Charles F.
Harvey Partridge,
Parker, David
Perkins, Samuel
Parker, Rev. John
Rand, Calvin
Rand, Joseph
Rice, Marshall
Richardson, Benj.
Smith, Oliver
Smith, Isaac
Shedd, Nathan
Henry Sherman, James M.
Sherman, James M.
Sherman, John
Sawyer, Otis
Sawyer, William
Staunton, Thomas
Skinner John L.
Trask, Darling
Turner, Nathaniel D.
Tufts, Joseph
Wetherill, Throop B.
Wheelock, Geoffrey
Woodward, Ephraim
Woodward, Royal
Woodward, Thomas
Weston, Thomas P.
Whipple, Cornelius
Whipple, Levi
Wellington, Timothy
White, Barney L.
Winslow, Charles
Wight, Miram

The First Methodist Episcopal Church was organized from the above Upper Falls Religious Society members in 1832. The number of such members is given at 53 but their names are not available.
Musicians and choir members of the Religious Society for the period 1828-32 comprised the following:
George Morse, Leader
Alfred Bridges, Bugle
Artemas Newell, Bass Viol
Jess Winslow, Clarionet
Miss Eliza Bartlett
Miss Eliza Clapp
Miss Silence Clark
Miss Nancy Ellis
Miss Charlotte Plimpton
Kinsley Allen
Samuel Cheney
William E. Clarke
Samuel McIntosh
Amos Morse
George Ninsor
Oliver Plimpton
Charles Pettee
The following 11 men began the Baptist church organization in 1832 at Newton Upper Falls by the paying of shares:
Jonathan Bixby*
Samuel Scott*
Isaac Keyes*
Lauren Kingsbury*
Ira N. Bullen
John Bullough Jr.
John Nicholson
Asa F. Smith*
Jesse Winslow
Martin P. Sturtevant
Thomas Nicholson*
* Also included in the list that follows.
The 55 members (presumably from Newton Upper Falls) who left the First Baptist Church in Newton Centre to form the Second Baptist Church at Upper Falls in 1835:
Ira N. Baptams
Angelina Bixby
Eliza H. Bixby
Eunice Bixby
Lydia Bixby
Hannah Bond
Amariah Bullens
Levina R. Bullens
William Bullough
Abigail Cheney
Mary S. Cheney
Abigail B. Clapp
Hannah Fisk
Olivia Fisk
Samuel Floyd
Nancy L. Gardner
Catherine Hyde
Abia Keyes
Elizabeth E. Keyes
Francis T. Keyes
Mary Ann Keyes Eliza Kingsbury
Sarah S. Kingsbury
Sally Kingsbury
Matilda Libby
Martha F. Newhall
Samuel Nicholson
Sally Nickerson
Susanna Nickerson
Sylvia Jones
Louisa Peak
Sarah Priest
Chloe Ray
Sarah Richards
Lucius Smith
Sylvester Smith
Charles Scott
Charlotte H. Smith
David Scott
Hannah Scott
Belinda Smith
Betsey S. Smith
Clarissa Smith
Cleora F. Smith
Lucy Taylor
James Taylor
Martha H. Taylor
Susan Willis
Rosanna Woodward
The Universalist Church on High Street was founded in 1841-42 by the following men:
James Barney
Beriah Billings
Henry Billings
Pliny Bosworth
Richard Boynton
Jason Brayman
William Cargill
William Fairfield

Joshua Gardner
Lyndall Grover
Martin Hunting
George W. Keyes
John Kingsbury
William Lyon
Thomas Nealy

William H. Nichols
Harding Partridge
Levis H. Partridge
Stephen Putnam
Samuel P. Skinner
Horace Whitney
Ebenezer Woodbury

The leading laymen of the St. Mary's Roman Catholic Church (the first church of that faith in Newton) in the years 1843-1868 were:
Michael Begley
Edward Cahill
James Cahill (son of Edward)
Michael Daley
Timothy Flanagan
The Church of Yahweh (Second Adventist) was formed in 1886 on Mr. Luther T. Cunningham's property on Boylston Street, and was comprised mainly of three families: the Cunninghams, the Pipers and the Adamses. (See under "CHURCHES")
In Smith's history there are listed the freeholders in Newton in 1798 with their estates and valuations. Altogether there are 200 houses shown; 175 occupied by their owners, 25 by tenants, with a total valuation of the houses set at $71,614.00. The land, totaling 9,544 acres, was valued at $265,439.00 for a total valuation of $337,053.00. It appears that even for those days this was an extremely low valuation and the percentage used must have been very small. The following names, estates and valuations were taken from the Books of the Assessors who were appointed under an Act of the Congress of the United States passed in 1798, levying a direct tax upon the country of $2,000,000. Property exempted by state laws were not to be assessed, nor were dwelling-houses of a valuation of less than $100. This action was taken on October 1, 1798.
The following list includes only those who were believed to be residents of the old Upper Falls village. It does not appear to this writer to be complete as, for example, it does not include any Ellis properties thought to have been in existence at that time. Because of the very low percentage of valuation used, there may have been other houses in the village which are not included as they have been valued at less than $100.
| | | | | | |
| --- | --- | --- | --- | --- | --- |
| Owner & Occupant | House | Value | Acres | Value | Total Value |
| Bixby, Jonathan | 1 | $475 | 19 | $1,366 | $1,841 |
| Cheney, Aaron | 1 | 160 | 41 | 1,170 | 1,330 |
| Cheney, William | 1 | – | 14 | 140 | 140 |
| Cheney, Ebenezer | 1 | 390 | 50 | 1,500 | 1,890 |
| Craft, Joseph | 1 | 245 | 78 | 2,612 | 2,857 |
| Clark, Daniel | 1 | 335 | 98 | 2,094 | 2,429 |
| Collins, Matthias | 1 | 215 | 119 | 2,152 | 2,367 |
| Elliot, Simon | 1 | 900 | 53 | 6,455 | 7,355 |
| Elliot, Simon | 1 | 300 | 3 | 350 | 650 |
| Elliot, Simon | 1 | 725 | – | – | 725 |
| Fuller, Nathan | 1 | 600 | 75 | 1,870 | 2,470 |
| Kenrick, John | 1 | 280 | – | – | 280 |
| Kenrick, John, Jr. | 1 | 600 | 85 | 3,337 | 3,937 |
| Kenrick, Caleb | 1 | 475 | 68 | 2,490 | 2,965 |
| Hammond, Thomas | 1 | 370 | 60 | 1,540 | 1,910 |
| Mitchell, Edward | 1 | 715 | 67 | 1,912 | 2,627 |
| Parker, Samuel | 1 | 335 | 54 | 1,901 | 2,236 |
| Parker, Joseph | 1 | 230 | 104 | 1,603 | 1,833 |
| Tolman, Thomas | 1 | 106 | 9 | 255 | 3611 |
| Winchester, Amasa | 1 | 550 | 151 | 4,035 | 4,585 |
| Woodward, Ebenezer | 1 | 360 | 117 | 2,810 | 3,170 |
Later the site of Otis Pettee's mansion, "Sunnyside"
---
The South Burial Ground
Examination of the list of those buried in the old Upper Falls-Oak Hill cemetery (South Burial Ground) does not reveal many names of persons known to have resided in Upper Falls prior to 1800. This ancient burying ground, laid out in 1802 near the junction of Winchester, Dedham and Needham Streets, is the oldest non-sectarian cemetery in the city. It was established as a result of a meeting of the residents of the south side of Newton held June 21, 1802 to consider the matter of laying out a new cemetery. Edward Mitchell, Ebenezer Cheney and Jeremiah Wiswall, Jr. were chosen as a committee to purchase a piece of land for that purpose. As a result, it was decided to purchase three-quarters of an acre from Captain David Richardson near the corner of the Dedham and Sherburne roads. Part of the land was divided into 29 equal lots for family burial places for the original proprietors and the names such as Bixby, Bartlett, Barney, Cheney, Elliot, Hall, Kenrick, Mitchell, Parker, Richards, Richardson, Stone, Winchester and Wiswall include many of the early Upper Falls residents. A complete list of those buried in the old cemetery is on file in the Jackson Homestead. In 1883 the proprietors sold their property to the city, but reserved right to bury their dead in their respective family lots according to the original plan. About the same time, Amasa Winchester gave the city about three-quarters of an acre for the purpose of enlarging the cemetery, extending 60 feet on the west line and 20 feet on the north line adjoining. As a result of this addition the cemetery now contains one acre and a half.
Of the approximately 350 persons buried there, about 100 of them were born in the eighteenth century. As the creation of this cemetery was a joint venture of Upper Falls and Oak Hill residents in 1802, we are including here only the names of those whom we believe were Upper Falls residents and who could have been living here in the 1700s:
Gravestone Names
| | | |
| --- | --- | --- |
| Name | Born | Died |
| Alden, Betsy (wife of Simeon) | 1780 | 1861 |
| Ayling, Thomas | 1779 | 1841 |
| Bacon, Silas | 1789 | 1842 |
| Bacon, Polly (wife of Silas) | 1795 | 1869 |
| Baker, Mary (Mrs) "Died in Newton U. Falls" | 1776 | 1843 |
| Barney, Joseph | 1783 | 1838 |
| Barney, Sukey (wife of Joseph) | 1783 | 1865 |
| Hartlett, Ann R. (Mrs) | 1787 | 1854 |
| Boynton, Richard | 1781 | 1841 |
| Boynton, Betsy (wife of Richard) | 1781 | 1855 |
| Cheever, Lucy (wife of Lyman) | 1798 | 1870 |
| Cheney, Martha (widow) | 1781 | 1848 |
| Crackbon, Hannah (Daughter Jos. 6, Abigail Crackbon) | 1795 | 1829 |
| Crackbon, Joseph | 1759 | 1826 |
| Davenport, Benjamin | 1786 | 1862 |
| Davenport, Nehitable (Mrs) wife of Benj | 1789 | 1826 |
| Davenport, Enoch | 1744 | 1803 |
| Davenport, Priscilla P. | 1749 | 1837 |
| Farnum, Ezra M. | 1788 | 1867 |
| Farnum, Susan (wife of Ezra) | 1798 | 1842 |
| Fogg, David | 1792 | 1859 |
| Fogg, Elizabeth (Mrs) | 1791 | 1855 |
| Garfield, Mary (Mrs) | 1756 | 1838 |
| Garfield, Hepsibath (Miss) | 1769 | 1859 |
| Garfield, Rebeckah (Miss) | 1795 | 1840 |
| Giles – – "Our Mother" | 1794 | 1868 |
| Goodnough, Phineas "Born in Charlton, died in Brookline" | 1792 | 1860 |
| Goodnough, Sarah R.(widow) b. in Sutton | 1791 | 1857 |
| Hayward, Sarah R."Wife of Claudius D. | 1762 | 1845 |
| Born in Gilsum, N.H. Died in Newton U. Falls" | 1734 | 1845 |
| Hill, Betsey (wife of Calvin Hill) | 1791 | 1843 |
| Hurd, John | 1792 | 1852 |
| Hurd, Elizabeth (wife of John) | 1799 | 1861 |
| Jameson, Eliza (Miss) | 1797 | 1864 |
| Jewett, Dorcas A. (Mrs) | 1787 | 1859 |
| Kenrick, Caleb | 1775 | 1820 |
| Kenrick, Elizabeth (wife of Caleb) | 1781 | 1861 |
| Keyes, Deacon Isaac | 1796 | 1880 |
| Keyes, Abigail (wife of Isaac) | 1797 | 1861 |
| Keyes, Sally | 1788 | 1841 |
| McFarland, Eliza (Mrs) (wife of Walter McFarland) | 1798 | 1827 |
| McFarland, Betsy (Mrs) (wife of Walter McFarland) | 1786 | 1822 |
| Nickelson, John | 1782 | 1834 |
| Nickelson, Jane | 1785 | 1860 |
| Parker, Mary (Mrs) | 1783 | 1859 |
| Parker, Benjamin | 1761 | 1836 |
| Partridge, Eunice (Mrs) (wife of Harding Partridge) | 1792 | 1845 |
| Pierce, Koigail (wife of Amos Pierce) | 1795 | 1851 |
| Priest, Sarah (widow) | 1795 | 1858 |
| Scott, David | 1771 | 1834 |
| Scott, Hannah (wife of David) | 1775 | 1849 |
| Sturtevant, Martin P. | 1791 | 1852 |
| Sturtevant, Elizabeth | 1793 | 1868 |
| Wheeler, Jonathan | 1791 | 1843 |
| Williams, Asa | 1774 | 1850 |
| Williams, Ellis (wife of Silas Williams) | 1784 | 1842 |
| Williams, Pamela B. "Died at Lowell, Mass." | 1788 | 1863 |
| Willis, Elisha | 1796 | 1823 |
| Williston, John | 1782 | 1835 |
| Williston or Giles "Our Mother" | 1794 | 1868 |
| Wilson, James | 1799 | 1846 |
Tombs
| | |
| --- | --- |
| Salmon Barney & Aaron Richards | Built 1806 |
| Jonathan & Jonathan Jr. Bixby | Built 1806 |
| Aaron &. Ebenezer Cheney | Built 1806 |
| Edward Mitchell & Jeremiah Wiswall, Jr | Built 1806 |
Many of the headstones placed in the cemetery have disappeared, been buried or broken, and in many cases the names on some stones have become indistinguishable through time. General Simon Elliot was one of the original proprietors of the cemetery but his name was not found on the list of those who are buried there. It might be noted here that we found one surprising feature of this cemetery in that the tombs and a great majority of the headstones all face away from Winchester Street on which the main gate is now located even though this street (then known as the Dedham Road) was in existence at the time it was laid out. At that time, however, (1802) Boylston Street did not exist and all travel to the fast growing villages of Upper and Lower Falls came up over what is now Centre Street, swung westward on Cook Street (now known as Curtis-Ramsdell, a split street) and then divided at the junction of what is no>r Elliot and Woodward streets; Upper Falls travelers using Elliot and the others, Woodward. Therefore, Cook being the busier and more important street, the cemetery probably was laid out facing this road. A right-of-way leading from Cook Street to the cemetery must have existed at one time. Also, the Southwest District school was located in the area along with two taverns, Mitchell's on the Dedham Road (at the present junction of Centre and Boylston) and Bacon's at the junction of the present Elliot and Woodward streets.
For several years following the Civil War, the graves of that war's veterans were decorated by G.A.R. Post 62 as indicated by these early newspaper accounts. Following are some excerpts:
May 29, 1869: SOLDIERS GRAVES – Delegations of Post 62, G.A.R., of this town, will visit the Cemetery at Newton Lower Falls, at half past eleven A.M., today, for the purpose of decorating the Soldier's Graves, and the ground at the Upper Falls at noon for a similar purpose.
An earlier item of June 6, 1868 (in reference to a list of soldiers killed in the Civil War)
"In addition to the list already given, one of the soldiers of the late war was buried at the Newton Upper Falls Cemetery but we have mislaid the letter containing his name."
Possibly this is in reference to the same person found in this item from the same paper, the Newton Journal, dated June 20, 1868:
Another Dead Soldier – In addition to the list of soldiers attached to the roll of Newton, who lost their lives during the late struggle, already published, the remains of Edward Cornish, a member of a New York Regiment in the Evergreen Cemetery, Upper Falls. He has not a relative in this country, and perished in defense of the land of his adoption. His grave was decorated with flowers with others on the 30th."
A small mystery exists here as a check of the list of those buried in the Winchester Street Cemetery does not reveal the name of Edward Cornish. Also, we have seen a map that designated this cemetery as the Evergreen Cemetery but it was originally called the South Burial Ground. However, another news item appearing on June 3, 1871 indicated that the graves decorated at the Upper Falls Cemetery by G.A.R. Post 62 were those of Charles Brown, Edward Cornish and William Fell. Again, of these three men only the name of Sergeant C.S. Brown, Co. F, 1st Massachusetts Infantry appears on the list of the persons buried in the Upper Falls cemetery. A deceased soldier's name found on the list but not included in the news item was that of C. H. Duvall, Company H, 2nd Massachusetts Cavalry.
Revolutionary War Veterans' graves (including the tomb of Jonathan Bixby) were indicated by iron markers bearing the legend: "Revolutionary Soldier – 1777-1783, Erected by Lydia Partridge Whiting Chapter, D.A.R."
No attempt has been made in this history to give a complete record of the part the people of Newton Upper Falls played in the wars that have plagued our nation since it was founded. No doubt a complete volume could be written of their contribution from the opening shot of the Revolution to the last lingering echoes of the recent struggle in Viet Nam. However, we do include this record of one tribute the people of the village paid to those who served and who gave their lives for their country. This is from the records of the Newton Upper Falls Improvement Association:
DEDICATION OF MEMORIAL TABLET

Saturday, June 11, 1922

On the above date the Memorial Tablet bearing the names of the soldiers who served in the World War was dedicated. The monument which is the gift of the former Athletic Club (of which many of the soldiers were members) and the Improvement Society, stands on the lawn of the Emerson School.

Appropriate exercises had been arranged but were very much upset by the terrible storm and tempest which broke just as Gen. Clarence R. Edwards, the speaker of the afternoon, arrived. The Newton Constabulary Band furnished music as the people numbering about 1500 were gathering. The unveiling was by little Evelyn and Della Fisher whose uncle, Wallace Fisher, fell on the field of battle.

Mayor Childs accepted the monument for the city. Owing to the storm only about a third of the people could hear Gen. Edwards fine address which was given in the Moving Picture House.

The remainder of the company sought shelter in Emerson School Building and the Reading Room. The following formed the committee of arrangements.

Mr. A. D. Colby, Chairman Mr. James Gormerly Miss E. W. Sabin Mr. Daniel Crowley Margaret Sullivan Mr. Walter Dugan

Mr. John Temperley

(The above was recorded by Miss Ethel W. Sabin, Secretary of the Association)
Out of reluctance to eliminate any anecdotes concerning early eighteenth century episodes in John Winslow's life, we feel that this is as good a place as any to add this one.
Barely three generations from the end of the Revolutionary War and the birth of the nation, John and his friends no doubt were still basking in the glow of its achievements. Nearby Lexington, Concord and Bunker Hill were fast becoming shrines and these scenes of triumphs and exciting action were still fresh in the memories of its aging survivors. John recalls one of these local heroes:
"There was one character of a different sort who interested the village boys very much. He was known as 'Daddy' Thwing and was a very old man…and lived near what was known as the South Cemetery (South Burial Ground, referred to earlier in the chapter), not far from Deacon Cook's wheelwright shop. I remember him well. He was a soldier of the Revolution and was fond of telling the boys of the battle of Bunker Hill, in which, as he said, he took a valiant part.

As he would stand by the road side on a summer day, protected by the shade of some tree, resting on his cane, looking very, very old, and tell us of Washington, whom he saw of course, and of the battles he was in, and how the soldiers suffered from the heat and cold, or for the want of rations, it would make our young blood hot with indignation…"