Trail Map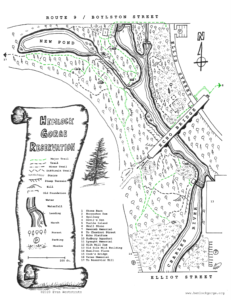 Free to print or save for personal, non-commercial use only.
Getting to Hemlock Gorge
Hemlock Gorge is located at the intersection of Newton, Needham, and Wellesley, MA
Driving
Parking
Hamilton Pl Parking Lot
2 Hamilton Pl
Needham, MA 02494
Ellis St Parking Lot
4 Ellis St
Newton, MA 02464
Bus
The MBTA 59 Bus has two stops for Hemlock Gorge
Chestnut St @ Elliot St
Central Ave @ Reservoir St
The T
Hemlock Gorge is a 15 minute walk from the Eliot T Station on the Green Line D train.
The most direct walking route from the T stop is via Rt 9.
Cross over the tracks via the pedestrian bridge, go down the stairs and walk on the sidewalk moving West until you hit the park.
The most pleasant walking route from the T stop is via the aqueduct. (The famous echo bridge is actually part of the aqueduct!)
From the T stop, take Canterbury Rd until you can see the path up to the aqueduct.
Take the aqueduct until you hit Boylston St. (you will be on an exit ramp of RT. 9)
Cross over Chestnut St and cross under Rt. 9 at Quinobequin Rd/Ellis St.