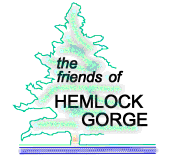 The Friends of Hemlock Gorge
Celebration of Our Spring and Fall Cleanups
---
One of the most important activities of the Friends are the annual Spring and Fall Cleanups of the Reservation.
It has been some time since those Metropolitan District Commission, and now the Department of Conservation and Recreation, has had the resources necessary to maintain the properties with the kind of attention they require.
The Friends of Hemlock Gorge, and many other Friends groups (click here for links to some of these) came into existence, in part, to respond to the unmet needs in our parks. Click here to read the history of the Friends. They have sponsored many activities, among them regular cleanups. This page celebrates the many volunteers who have given their time and effort so unstintingly to Hemlock Gorge.
Click on the links in the table below to see the archives from some of our cleanups.
---
From the start of picnics in the early 1990s to 2003, the webmaster has few photos. Please share any others you many have.
1999 - Fall

At the Stone Building after the cleanup. Click on the picture for a larger image.

2000
2001 - Spring

At Hamilton Place, getting ready to start

In the Stone Building with posterboards with some architectural renditions for renovating the structure.

Click on the pictures for larger images.
Photographs by John P. Mordes, M.D.
Page last updated April 25, 2020