Welcome to the Home Page of the Friends of Hemlock Gorge Reservation, a community organization founded in 1990 and dedicated to preserving and improving Hemlock Gorge.

Hemlock Gorge is a 23-acre reservation along the Charles River between Route 9 to the north and Elliot Street to the south. It was conceived by Charles Eliot in 1892 and is managed by the Massachusetts Department of Conservation and Recreation. At its heart is the famous Echo Bridge, which dates from 1886. Parts of the park are in Newton, Wellesley, and Needham.

For those wishing to canoe on the river in the Gorge, there is a put-in at Hamilton Place, but be aware that there is a dam ("The Silk Mill Dam") with a drop of many feet just a little downstream.
There is street parking near to many entrances to the park. In addition there are two small parking lots for visitors, one in Needham at the intersection of Elliot Street and Hamilton Place and the other in Newton at the intersection of Ellis Street and Boylston Street.
---
We Invite You to Join Us
The Friends of Hemlock Gorge is now a 501(c)(3) tax-exempt organization. Contributions to the Friends are tax-deductible to the extent allowed by law. Anyone wishing to contribute to the Friends can contact us at friends@hemlockgorge.org.
Please consider contributing to The Friends of Hemlock Gorge for our work in 2021. A contribution in any amount is appreciated. Suggested annual dues are $10 for seniors, $15 for individuals, $25 for families, and $100 for angels. Our donations are managed through PayPal and go directly to our bank. For those who give $25 or more, we are offering one of four gorgeous posters of Hemlock Gorge created by Friends' Vice-President Evan Weststrate. To view the posters and make a $25 or greater donation, click here. To contribute without ordering a poste, just use the PayPal button here. Please note that we are recognized as a charity by PayPal and pay the lowest processing fee that is offered.

To read our Bylaws, click here. To read our Statement of Purpose, click here. Officers for 2021 are: President: John Mordes; Vice-President: Evan Weststrate; Treasurer: Robin Dexter; Secretary: Sheila Purdy. Our Board of Directors includes Vaunita Schnell, Andreae Downs, Seana Gaherin, and Rena Getz, in addition to the President, Vice-President, and Treasurer of the Friends who serve ex officio.
---
News & Announcements
---
Upcoming Meetings of the Friends
Regular Meetings are held on the second Tuesday of the month at 7:15 in the evening unless otherwise announced. Our next meeting will be our special holiday party meeting at which we will send out our annual report to members and elect officers and a board for the coming year. The party will be held on Tuesday, December 7 at 7:15 and invitations with details will be sent to members on 12/4. Chris and Karen Osborne will again be our hosts.
Our next regular meeting will be a held on Tuesday, January 11, 2022 at 7:15 p.m. It will be a hypbrid meeting. Those wishing to meeting in person will convene at the Waban Library Center at 1608 Beacon Street, just a short distance from Hemlock Gorge. For a map click here. The Zoom link and meeting agenda will be sent to members in jearly January
Our November, 2021 meeting was our first in-person meeting since March 2020 and was went very well.
Minutes of our meetings are available here.
To read our 2020 End-of-Year Annual Report to Members, click here. To find links to much more news of our activities, click here.
---
Good News on the Sidewalk

The Department of Transportation has completed the extension of the sidewalk in front of the Stone Building fron the Route 9 off ramp to the intersection of Quinobequin Road and Ellis Street. There is now a safer way to walk from the parking lot to Stone Building entrance to the Reservation.

Again, the Friends thank Rep. Ruth Balser who spearheaded the effort to complete this project.

---
Upper Falls Village Day, October 3, 2021

Upper Falls Village Day took place on Sunday, October 3 in Pettee Square. The Friends had a booth and the event was a great success. Some photos will follow. The Upper Falls Council unveiled a monument to honor our founding President, Brian Yates, and current president John Mordes gave one of the dedication speeches.

---
2021 Fall Cleanup of Hemlock Gorge
The Friends of Hemlock Gorge's 40th Annual Fall Cleanup took place on Saturday, October 16, 2020 in very nice weather. We had a very good turnout of about a dozen volunteers. To see a photo archive, click here.

---
2021 Annual Summer Picnic
Our 2021 summer picnic was held on a beautiful Auguet evening at the newly re-roofed Stone Building. It was the Friends' first opportunity to get together in person in more than a year. All our members were vaccinated against Covid and the evening was a perfect pleasure. The grill fired up after a hiatus of two years and we all enjoyed our meals. Unfortunately the building had lost power, so there was no music, but no one seemed to notice. Here are some photos of the event.
Bob Burke, Rena Getz, Sheila Purdy, Jim Purdy, Rep. Ruth Balser, Paul Newton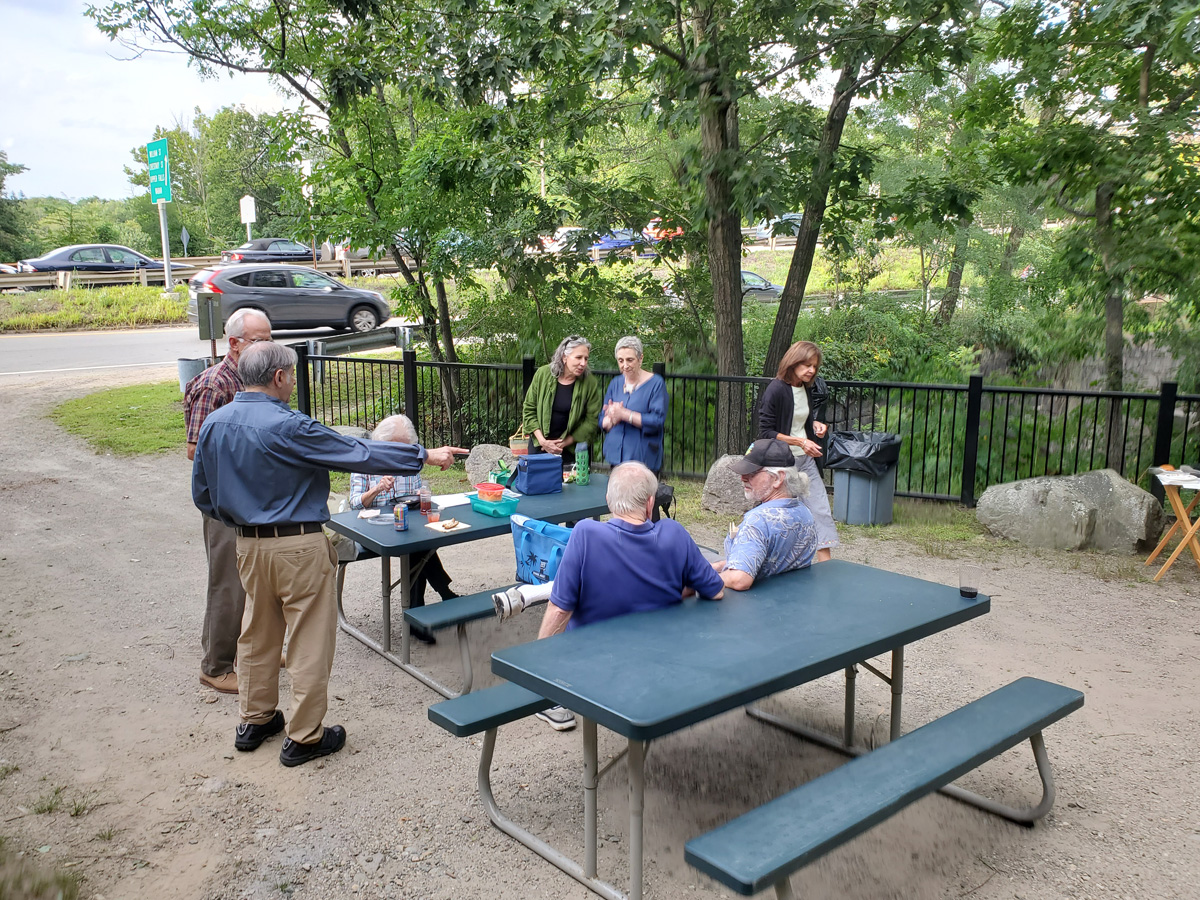 Picnic by the Circular Dam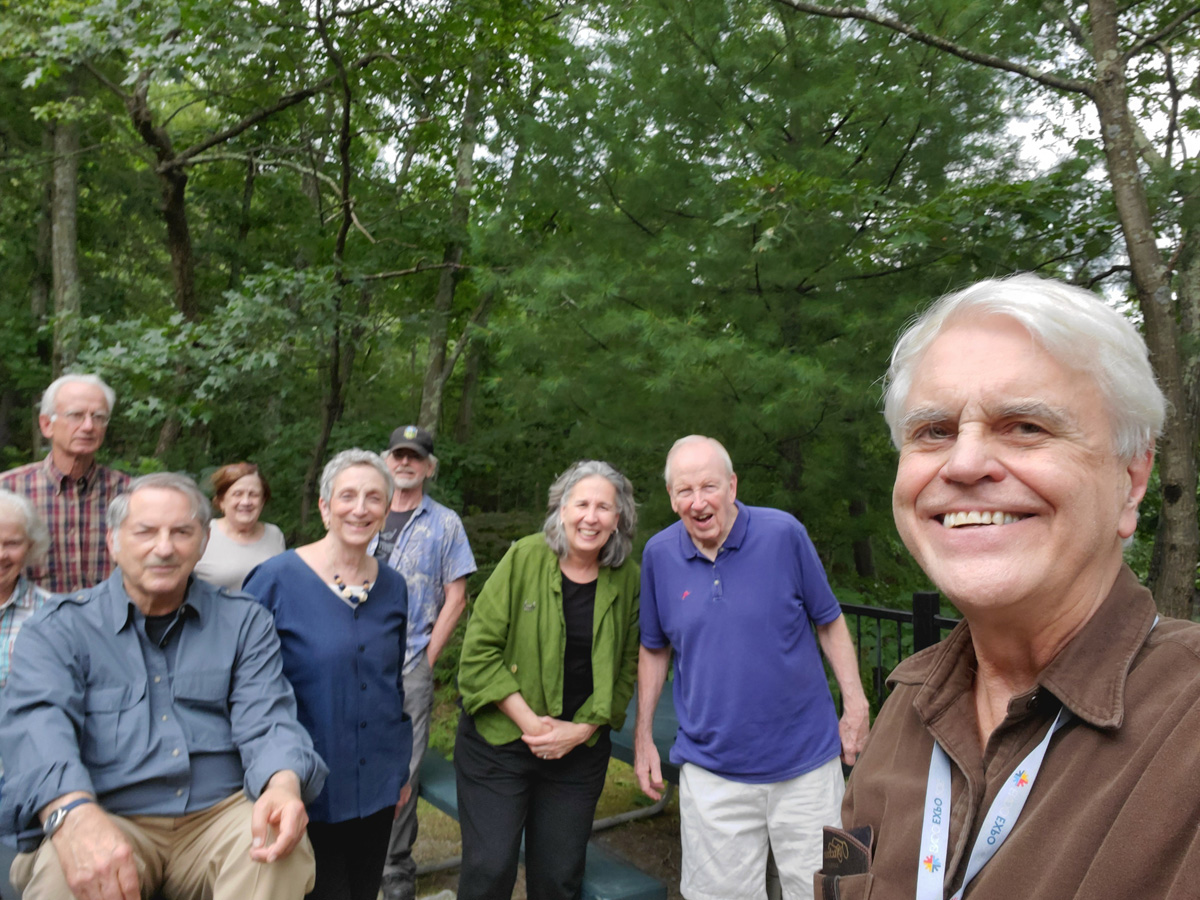 Jean Fisher, Lee Fisher, Paul Newton, Sheila Purdy, Rep. Ruth Balser, Rena Getz, Bob Burke, Friends' Prez Dr. John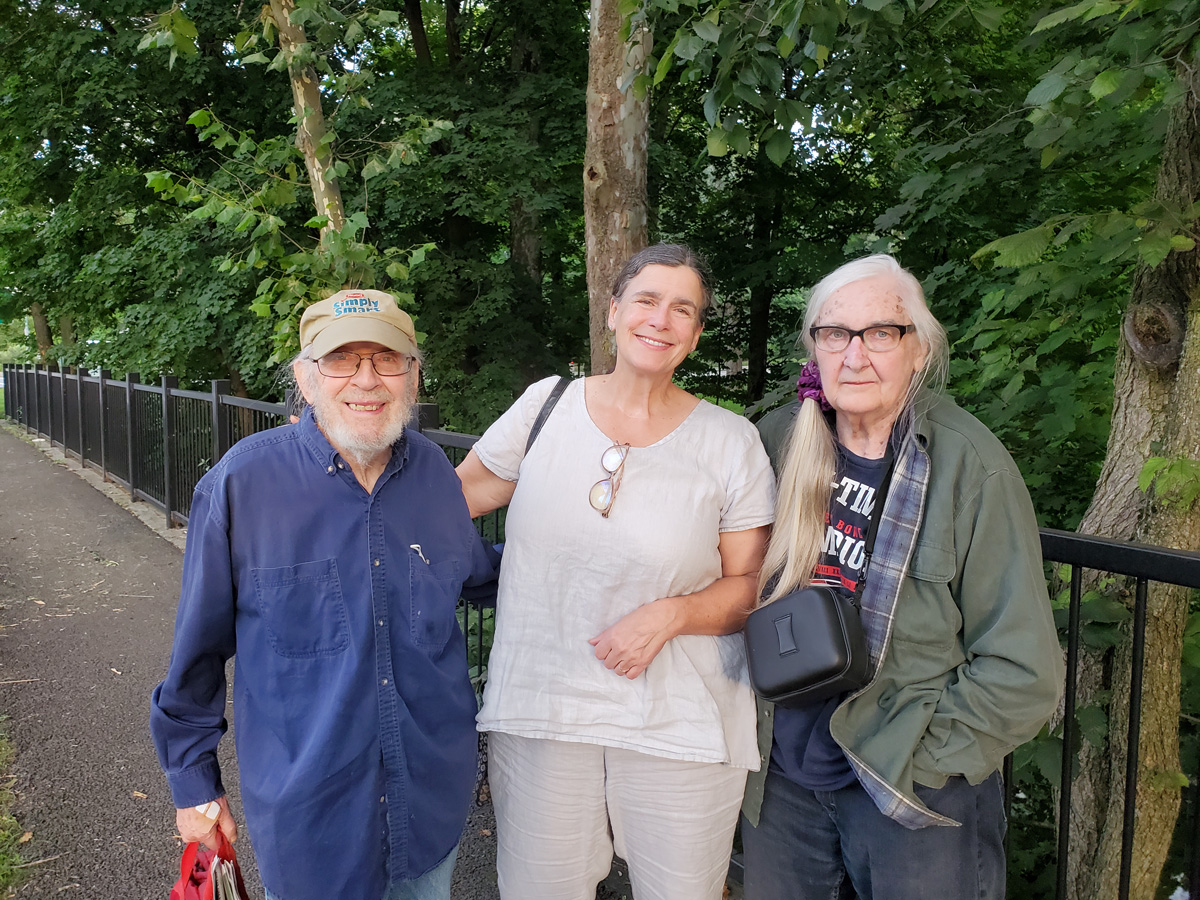 Dick Schnell, Karen Osborn, Friends' Co-Founder Vaunita Schnell
---
Echo Bridge Stairway: As many of you know, the stairway leading from Echo Bridge down to Ellis Street had been deteriorating. Repairs to the steps were made a couple of times by members of the Friends. Now, thanks to the advocacy of Rep. Ruth Balser working with the MWRA, all the old wood has been replaced with lovely new red cedar. The photos below show the old stairs, the repairs in progress, and the new stairway. The work crew assured us that the iron support structure and railings are in good shape, but these will need attention at some point in the future. To see the original engineering drawings for the stairs from 1900, provided to the Friends by Lee Fisher, click here. The Friends are pleased to recognize Rep. Balser for her work to preserve this historic structure and make it safe.
Left to Right: The old stairs, stairs under repair, and the finished new stairs. Click on the images to see a larger version.

---
Ellis Street Parking Lot News
We're happy to report that through the efforts of Philip Arpino, Assistant Superintendent, Beautification Division, Newton Parks & Recreation Dept. and Maria P. Rose, CFM Environmental Engineer, Newton Public Works Department, the City of Newton has continued to maintain the Ellis Street Parking lot. The staff is keeping an eye on the area.
---
Stone Building Roof Restored
Many of you will recall that at the dedication of the Brian Yates memorial, Representative Ruth Balser announced that the new state budget includes a $50,000 appropriation for restoration of the roof of the Stone Building. The DCR has completed the project! The photos below show the old and new roofs! Clicking on the pictures will show a larger version. We hope to have a ceremony to dedicate the new roof and recognize Rep. Balser's contribution in October.
Click here to read about the history of the Stone Building
The old roof was installed in 1990. The new shingles and sheeting were installed on the 1990's rafters.
---
Public-Private Partnership Application that was Rejected

In late June, 2020 , as work on the roof was beginning, the Friends were made aware of an oppurtunity to apply to the DCR for matching public-private partnership funds to support an project that would benefit a DCR park. At a special meeting on June 30, we decided to submit a letter of intent to pursue the development of a Visitor Center in the Stone Building. The proposal was:

"...The Friends of Hemlock Gorge propose to begin the process of making the building a welcoming Visitors' Center. Until now, the building, with only a bare concrete floor, has not been welcoming and is infrequently used. We propose three initial steps to be taken as a public-private partnership. Step 1 will be to remove and replace two unsafe ceiling beams that once supported a second floor. Step 2 will be to install a perimeter drain to eliminate water seepage. Step 3 will then see the installation of a plastic tile floor comprised of industrial quality tiles. Our goal is to leverage the state's investment, upgrade the restored historic structure, and make it a welcoming and useful attraction in Hemlock Gorge.&quot

On September 14, 2020, however, the DCR rejected the proposal saying, "Unfortunately, DCR has to decline the Friends of Hemlock Gorge Visitor Center project for FY21 Partnership Matching Funds. The stone building building is currently being used for storage by DCR, and there is no plan currently to redesign for use as a Visitor Center. Given its current use and condition, DCR does not want to invest in any work that invites public access."

Fortunately, Rep. Ruth Balser has secured a state appropriation of $75,000 to preserve and improve the Stone Building. We do not need to re-apply.
---
---
Linking Hemlock Gorge to the Quinobequin Trail Park
At our September, 2020 meeting the Friends approved a proposal to make it safer and easier for people to move between Hemlock Gorge to the Quinobequin Trail along Quinobequin Road. It's a simple proposal to enhance pedestrian safety by of painting crosswalks, installing ADA compliant curb cuts, and creating a gap in a guardrail for trail access. We do recognize that more elaborate measures including walk lights or speed bumps or using the tunnel under Route 9 might enhance safety even more, but we believe that this proposal offers a low cost, very 'do-able' first-step towards solving a significant safety issue. To see the proposal, click here. It was submitted to Rep. Ruth Balser's office on September 22, 2021 and we expect the engineering drawings to be complete by May, 2021.
---
The USGS at Hemlock Gorge
Have you ever wondered about the little room in the Stone Building or the antenna and solar panel on its roof? Or the guage in the river across from the Stone Building? Evan Westrate has been looking into all this. The Circular Dam is the location of one of the U.S. Geologi Survey's water flow monitors. You can get real time water flow (Discharge) and level (Gage Height) data of our site from this website. You can see flow data in pretty much real time!

---
Hemlock Gorge: Past, Present, and Future

At our May 2020 meeting we were joined by Wellesley College student Lara Prebble who in 2019 wrote this thoughtful analysis of the history, present state, and possible future of Hemlock Gorge Reservation. It was her graduation project. Lara reviewed the history of the park in detail and proposed some improvements that were discussed at the meeting. she and her adviser have graciously allowed us to share it. To read her report, follow this link: A Landscapre Architect's Hemlock Gorge